Share
Four years ago, I started trying to clean up my stash of chemical-laden beauty products as much as possible, and started with researching toxic-free toothpastes to try. I figured if I'm going to start somewhere, I might as well start with what I'm putting in my mouth multiple times per day. The benefits of buying toxic-free beauty products and hygiene products like toothpastes are almost too many to name. For starters, many fillers and ingredients in toothpastes have been linked to hormone problems, neurotransmitter problems in the brain, interference with nutrient absorption, have been linked to autism, and multiple allergies. Many contain artificial dyes, chemical-based preservatives, sugar, parabens, artificial sweeteners and other nasty ingredients that are better off left in a lab, and not in your mouth! I found many great toxic-free toothpastes on the market during my personal search, and thought I would share with you a list of my favorites. If you're looking to clean up your mouth and your hygiene health a little at the same time, put back the traditional brands of toothpastes, and pick up one of these instead! You can find all of these online, and some can be found in supermarket stores nationwide.
---
1

Weleda Plant-Based Toothpaste Gel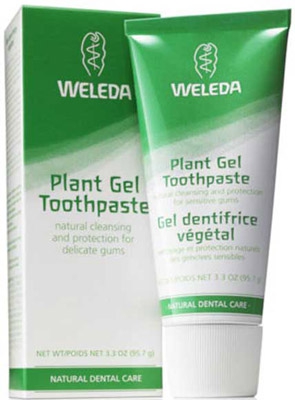 Weleda's plant-based gel toothpaste is one of my favorite toxic-free toothpastes out there. For starters, it smells great and has a good mouth-feel to it. It is made of natural silica, which protects your tooth enamel, and it contains plant extracts that help offset build-up of plaque and unhealthy levels of bacteria in the mouth. This helps the mouth maintain a natural flora makeup of healthy bacteria, and gets rid of the bad bacteria, without using harsh chemicals in the mouth. Most people don't know that the chemicals in natural toothpastes can actually kill off the good bacteria that lead in your mouth, and end up in your stomach, affecting your healthy gut bacteria too. This toothpaste contains natural peppermint and spearmint for a minty, refreshing aftertaste, and contains chamomile and myrrh extracts to help keep gums in good health and cavities at bay. You'll love the taste of this toothpaste if you like the taste of traditional mint-flavored ones, and it works great! Find it at iHerb.com and give it a try!
---
2

Jason PowerSmile Toothpaste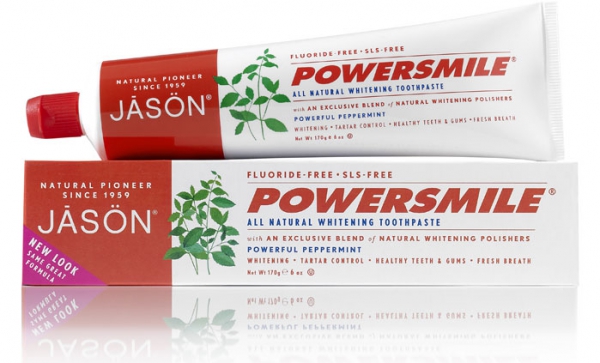 This is personally my favorite toxic-free toothpaste and it whitens my teeth as well as all those white strips I used to use as a teen. I cringe at what I was putting in my mouth twice a day with those things! Jason's Powersmile toothpaste is free from harmful chemicals such as sodium lauryl sulfate, which has been linked to hormone disruption, as well as fluoride, which has been linked to low thyroid levels and other health issues. It contains baking soda to whiten teeth, real peppermint extract to combat bad breath, and silica to help remove plaque and aid in whitening and a giving you a super-clean mouth. I love how this toothpaste freshens my breath better than others out there, and it is my go-to when I want to show off my pearly whites in all their glory! Get yours at iHerb.com, among other places.
---
3

Peelu Fluoride-Free Toothpaste

This is a fantastic fluoride-free toothpaste if you're aiming to avoid the ingredients in most commercial toothpastes such as parabens, artificial sweeteners, sugar, or animal products. It is 100% cruelty-free and free of all the most harmful ingredients found in toothpastes today. It contains plant-based ingredients, which help to clean and whiten teeth, and contains a natural mint extract to freshen your breath. You can find it at iHerb.com and other retailers.
---
4

Now Foods Xyli-White

This fabulous toxic-free toothpaste is also a favorite of mine, and features the ingredient xylitol, which many of you know is used as a natural sugar replacement. The sugar alcohol is also a well known agent to prevent tooth decay and is actually found in many chewing gum products out there. This toothpaste is much better for you than all those chemical-filled chewing gums though, so don't worry! Xylitol is a natural, plant-based ingredient that helps remove plaque and reduce gum disease, so it makes a perfect ingredient in natural toothpastes. This brand features all the good stuff, and none of the bad stuff. It has silica, baking soda, and tea tree oil, which all cleanse and whiten teeth without harming you in the process. What it doesn't have is gluten, sodium lauryl sulfate and parabens. Due to the peppermint oil and spearmint oil it contains, it also makes for a refreshing, minty toothpaste to try next time you get a chance! It's available at iHerb.com.
---
5

Tom's of Maine Fluoride-Free Toothpaste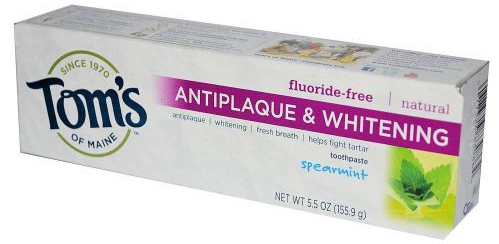 I've used Tom's of Maine toothpaste many times over the years and I'm always pleased with the results. This quality-brand produces many healthy hygiene products out there, and contain mostly all natural ingredients. Their fluoride-free toothpaste is one of my favorite options by the company and contains no animal products or artificial colors, flavors, fragrance, or preservatives. You can find Tom's at most retailers.
---
6

Nature's Gate Natural Toothpaste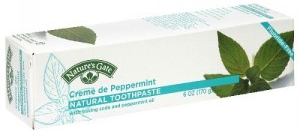 Nature's Gate is a fantastic natural hygiene products company which offers shampoos, conditioners and this toothpaste, just to name a few of their products. This fluoride-free toothpaste keeps your teeth feeling nice and clean, without artificial or chemically-based ingredients. Nature's Gate toothpaste is 100% vegan and cruelty-free, and contains many plant-based extracts such as aloe, ginger, cranberry, pomegranate, white tea and grape seed. These ingredients, along with baking soda, help to clean, protect and soothe the mouth, while also delivering a fresh, minty taste. You can get it at iHerb.com and other shops online.
---
7

Desert Essence Natural Tea Tree Oil Toothpaste

Tea tree oil has been used for ages as a natural cleansing and anti-bacterial agent in natural hygiene products. It is often used as a topical treatment on the face for acne, but is plenty gentle enough to apply to your teeth as well in the form of a toothpaste like this one. Desert Essence makes a tasty toothpaste that also keeps your mouth clean and refreshed, while being 100% vegan, gluten-free, fluoride-free and sodium lauryl sulfate-free. It contains baking soda to whiten and clean the teeth, along with tea tree oil, and it also has real peppermint oil to help freshen the breath and mouth as well. Check it out at iHerb.com and other stores.
Toothpaste is one of the easiest hygiene products to "clean up" in your life. It is easy to find, affordable in comparison to traditional toothpastes on the market, and it is so much better for you and the planet! If you want to learn more about why you should choose a natural toothpaste, feel free to check out the sources below. If you use a natural toothpaste, what's your favorite brand?
Sources: downwithbasics.com, livestrong.com
More